Babol Noshirvani University of Technology Takes Top Position Nationally in Energy Sciences in Shanghai Global Subject Ranking 2023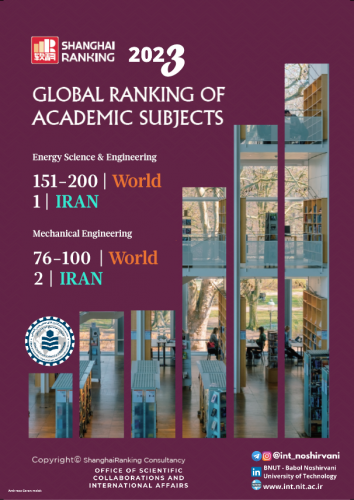 In the Shanghai GRAS 2023 ranking, Babol Noshirvani University of Technology secured impressive global rankings in various subject areas. Specifically, the university is ranked 100-76 in Mechanical Engineering, 200-151 in Energy Sciences, and 500-401 in Chemical Engineering among global universities.
Shanghai Subject Rankings, now in their sixth edition in 2023, encompass 54 disciplines categorized into five broad areas: Engineering (22 disciplines), Basic Sciences (8 disciplines), Life Sciences (4 disciplines), Medical Sciences (6 disciplines), and Social Sciences (14 disciplines). More than 1,800 universities from 96 countries were evaluated to compile the final list.
It is worth noting that among the 17 universities from Iran included in these rankings, Babol Noshirvani University of Technology excelled in Energy Sciences and Mechanical Engineering, ranking first and second in the country, respectively.
Official ranking page of the Babol Noshirvani University of Technology on the Shanghai Ranking Consultancy website, is available here: